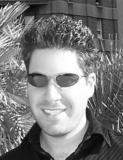 Adam Machanic
SQLblog.com
Database Consultant
Adam Machanic is a Boston-based independent database consultant, writer, and speaker. Adam has written for numerous Web sites and magazines, including SQLblog, Simple Talk, Search SQL Server, SQL Server Professional, CoDe, and VSJ. He has also contributed to several books on SQL Server, including "SQL Server 2008 Internals" (Microsoft Press, 2009) and "Expert SQL Server 2005 Development" (Apress, 2007). Adam regularly speaks at user groups, community events, and conferences on a variety of SQL Server and Microsoft .NET-related topics. He is a Microsoft Most Valuable Professional (MVP) for SQL Server, Microsoft Certified IT Professional (MCITP), and a member of the INETA North American Speakers Bureau.
 
 
Top Reasons to Attend
PASS Summit 2010

Over 160 technical sessions from the world's top SQL Server and BI experts
2 full days of deep-dive Pre- and Post-Conference Seminars
Networking with thousands of SQL Server MVPs, experts, Microsoft employees, and peers
Face-to-face support with the Microsoft CSS and SQLCAT teams
Ask the Experts Lounge
And much more!