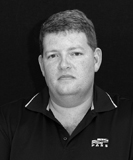 Kevin Goode
Inmar Inc.
Data Architect
Kevin Goode is an MCSE, MCSD, and MCDBA. Currently, he is the Senior Data Architect for Inmar Inc. Kevin has over 12 years SQL Server experience starting with 6.5 and 15 years of IT experience. He has worked in many industries including manufacturing, distribution and logistics, financial services, IT outsourcing and has worked for several fortune 500 companies. His specialties include SQL Server development, Performance Tuning, Business Intelligence, and ETL.
 
 
Top Reasons to Attend
PASS Summit 2010

Over 160 technical sessions from the world's top SQL Server and BI experts
2 full days of deep-dive Pre- and Post-Conference Seminars
Networking with thousands of SQL Server MVPs, experts, Microsoft employees, and peers
Face-to-face support with the Microsoft CSS and SQLCAT teams
Ask the Experts Lounge
And much more!