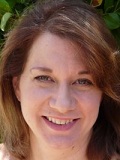 Stacia Misner
Data Inspirations
Principal
Stacia Misner is the founder of Data Inspirations which delivers global business intelligence consulting and education services. She is a consultant, educator, mentor, and author specializing in business intelligence solutions. Stacia has more than 25 years of experience in information technology and has focused on BI over the last 10 years.
 
 
Top Reasons to Attend
PASS Summit 2010

Over 160 technical sessions from the world's top SQL Server and BI experts
2 full days of deep-dive Pre- and Post-Conference Seminars
Networking with thousands of SQL Server MVPs, experts, Microsoft employees, and peers
Face-to-face support with the Microsoft CSS and SQLCAT teams
Ask the Experts Lounge
And much more!