SQL Data Compression: Experience and Changes
Data Compression has been one the most popular features of SQL Server 2008. In this presentation, we look into the common customer questions regarding usage scenarios and performance. We will then examine changes to Data Compression (i.e. Unicode Compression) available in SQL Server 2008R2. We expect you to be already familiar with the basics of ROW and PAGE compression features introduced in SQL Server 2008.
Speaker: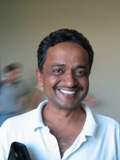 Microsoft
Principal Program Manager
Sunil is a Principal Program Manager in SQLCAT team working with ISV partners. Sunil had worked in SQL Server product team for the last 8 years as a program manager. In that capacity, he helped deliver many key SQL Server features such as snapshot isolation, data compression and readable secondary for HADR. Sunil is very active with SQL Server community and has contributed many white papers, BLOGs and presentations at conferences. Sunil has also co-authored two books on SQL Server. Prior to joining Microsoft, Sunil has worked as a developer in compiler and storage engine technologies at DEC and Sybase and as an application developer/manager at BMC Software, Asera and DigitalThink.
 
 
Top Reasons to Attend
PASS Summit 2010

Over 160 technical sessions from the world's top SQL Server and BI experts
2 full days of deep-dive Pre- and Post-Conference Seminars
Networking with thousands of SQL Server MVPs, experts, Microsoft employees, and peers
Face-to-face support with the Microsoft CSS and SQLCAT teams
Ask the Experts Lounge
And much more!